Music News
Deftones new album Koi No Yokan is streaming online at this link. Be sure to give it a listen and be sure to support the band by picking up the album next week. This is the second album the band has recorded with replacement bassist Sergio Vega, who stepped up to the band after Chi Cheng got in a serious car accident years ago. Cheng is still undergoing home care for his injuries.
Food for thought
School Lunch: Macaroni and cheese with muffin or chef salad with turkey/croutons, seasoned corn, fresh cherry tomatoes, petit banana/ chilled applesauce.
Up in Lincoln, school lunch is a different story for about 50 students, teachers and employees, as they've all got the flu. Surely chicken noodle soup is the preferred choice in these cases. Of course, you're hearing all the flu-shot propaganda in the media. "Get that flu shot! Get that flu shot! Free Flu shots at work. Come on in, let us stick you with a vaccine that has the flu virus in it." That's all in an effort to keep flue from breaking out, but it doesn't seem to have helped at all up in Lincoln. It's reported that Norovirus is the culprit in the sickening of the students—a virus that the flu vaccine doesn't battle against. "Get that flu shot!" yea, whatever. I'll just wash my hands and take my vitamins. Thanks.
What are you smokin'?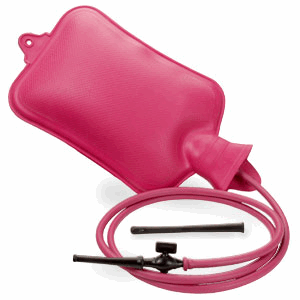 This is what a clean, unused enema is supposed to look like. Discard if there are any brown stains.
"Vote Obama. This is Obama, bitches." Those were the words from a robber who held up an Ohio grocery store last week as he pointed a gun at a clerk, demanding to know who the guy would vote for. It's being dubbed the Swing State Stickup. Not only was the robber trying to sway voters, he also got away with 800 bones. Police still haven't made an arrest in the case so it's hard to determine what dude was smokin', but, they did take a swab of some spit that was in the area and hopefully will be able to not only tie it to a suspect, but also maybe do a drug test … results are pending.
It's one thing if you get upset at a drive-thru window when your order gets all screwed up. But to do it over and over again … you may have a substance abuse problem. Some chick outta Pennsylvania allegedly assaulted a manager at a popular fast food joint. It's reported she smacked the manager which knocked his glasses off and she tore the headset off another worker then fled drunkenly in her Cavaleir. When police eventually caught up with her, she said she wasn't happy with the service. Police conducted a field sobriety test—which she failed. She's facing charges for DUI and assault charges.
Why is it that the most bizarre crime stories come out of Florida? Is it something in the water down there … or some kind of special drug they're smokin' down there? Not sure, but this story is just gross. Some dude in Florida has been indicted for tampering take home enema kits. Ronald Robinson is accused of buying several packages of ready-to-use-enemas at a pharmacy, using the enemas and then placing them back into the boxes, resealing the continuers and returning the products for refunds. The enemas were re-shelved by workers, unsuspecting that there was fecal residue all over them. Dude could get 10 years in prison and $250,000 in fines.